Beyond impunity: New directions for governance in Malawi
Synopsis
"This comprehensive, compelling, accessible and timely volume should be compulsory reading to academics, policy makers, social activists, and the general public in Malawi and elsewhere on the continent. It is the best book I have read recently on the country's complex, contradictory, messy, and disappointing political and socioeconomic dispensation since the dawn of the era of multiparty democracy in 1994. It mirrors the trajectories, and provides critical insights and invaluable lessons on, Africa's enduring struggles to construct democratic developmental states as envisaged by the late great Malawian public intellectual, Thandika Mkandawire.
The quality of the chapters is as impressive as the range of topics covered is exhaustive. Each of the sixteen chapters is extensively researched, cogently argued, and well written. Admirably, the chapters combine copious empirical data and sophisticated theoretical analysis. They often seek to place the developments in Malawi in the wider African, and sometimes global, contexts, thus illuminating the general literature on the political economies of Africa's postcolonies and the global South more broadly. This is one reason this book should appeal to a much wider audience than its Malawian emplacement might otherwise suggest.
The authors represent the cream of Malawian scholars, both seasoned and upcoming, located in the universities, think tanks, and public agencies. Some are renowned public intellectuals who have honed their professional lives and praxis in the often demanding and dangerous whirlpool of social activism. They all write with fervour and a sense of urgency, while maintaining the academic disposition of dispassionate analysis. This is an uneasy balance to maintain, but many are able to pull it off. They seem animated by the lingering spirits of a national intelligentsia from the bygone era of African nationalism that was driven by the historic and humanistic struggles and agendas for self-determination, nation-building, democracy, and development."
- from the Foreword by Paul Tiyambe Zeleza, Vice Chancellor, United States lnternational University-Africa
Chapters
Beyond impunity

New directions for governance in Malawi
Downloads
Download data is not yet available.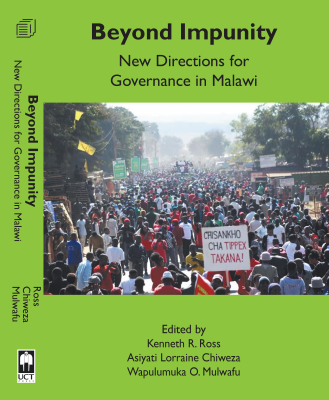 Downloads
Copyright (c) 2022 Author(s)
License
This work is licensed under a Creative Commons Attribution 4.0 International License.
Details about the available publication format: PDF
Details about the available publication format: Print on Demand